How Strategy and Culture intertwine?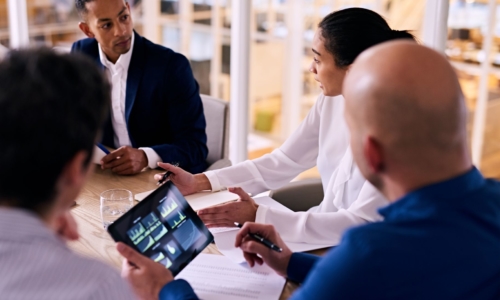 Understanding what the end game is and where you want to be is critical to moving forward.  After analyzing companies over a wide variety of businesses from trucking to plastics to medical manufacturing it is clear that desired goals determine decision making and culture.
To illustrate the importance, let's consider two distinctly different scenarios.  Company A desires to grow and expand organically to achieve increased profitability and a larger market share.  The primary focus is on top line growth.  The strategic steps will be likely targeted as follows.
1.     Marketing campaign to increase lead generation.
2.     Focus on winning competitive scenarios (price to win).
3.     Emphasis on expenses towards the sales / marketing team.
This approach will generate more sales and greater market share.  Some collateral outcomes may not be so obvious though.
Company B has similar desires in terms of growth.  However, the company has been very successful over the years by focusing solutions for their customer's needs.  The resulting strategy looks like the following.
1.     Analysis of current customers to determine the keys of success.
2.     Organizational changes to improve / enhance account management.
3.     Marketing that is targeted around their solution's value proposition.
4.     Alignment of key support activities and investments focused around customers current and future needs.
This approach will enhance the relationships with their key customers as well as attract new ones.  This approach can be termed a longer view.
Culture impact is another story though-
Company A will likely see a slow erosion of their operations talent.  This will impact their ability to deliver their products and services in an insidious way.  If allowed to continue the sales team will become discouraged as their new customers will be disappointed and require added effort and price concessions.
Company B will see their culture enhanced by the strategic moves.  The company will be more in tune with their customers and focused on selling their value proposition from throughout the organization. This will impact the decision-making process throughout the company assuring alignment with their core value.
So where does leadership fit in?  It is vital that leaders give high consideration to the culture of their organization.  Leadership must be ever vigilant to keep a pulse on the culture.  Patience is critical in mapping a plan forward in every business.  Often there are individuals who claim to know what numbers in the income statement and balance sheet need to change (your banker may have even suggested some).  Understanding how to change those and successfully enhance or move the culture into alignment is the real trick.
A solid approach to this challenge can be defined by these simple steps.
1.     Define your culture based on three distinct views (ownership, employee and customer).
2.     Clearly define your strengths and value proposition.
3.     Draft a simple 3-5 step strategy focused on enhancing item 2 while aligning the culture focused on item 1.
Leaders who embrace the culture of their organizations and work to enhance/align their decisions will see consistent success.
SPC Consulting specializes in guiding companies in the development of strategies that align and enhance the culture of their client's organizations.  www.spc-consulting-llc.com