Are you reviewing your strategy? Why?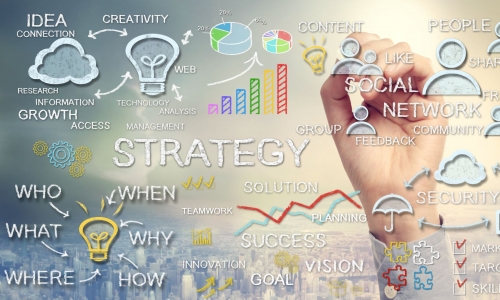 Lately I have noticed a lot of articles (like this Inc.) targeted around a mid-year review or a reset of your strategy.  Many talk about re-allocating resources or modifying goals or changing direction.  The idea is really a bit foreign to me for this reason.  Good strategies have built-in metrics to keep things moving and are based on core attributes not superficial desires.  Additionally, a good business leader is constantly evaluating and analyzing the direction of the company and looking at the data that supports their growth.  It would be like driving your car and not watching the road or taking your hands off the wheel.
So, let me share with you some key elements that will help you feel in control of your business and confident that your heading in the right direction every day.
Comparative graphing as part of your metric review and or dashboard. Comparative graphing shows typically 2 or 3 parameters on the same graph.  An example would be of sales revenue and gross profit.  Using different y axis scales you can quickly see if your margin is shrinking.  Graphs are very powerful tools.  They show trends, tell stories and beg questions
Solid set of metrics– especially basic items like Accounts receivable, Accounts payable (both $ and days outstanding), on-time delivery, quality defects, Inventory $, and more. The easiest way to think of these metrics is looking at your blood work results.  The doctor looks for only the outliers and focuses on those, yet reviews all of them for relative trends if they might impact your health.
Sales and marketing strategy plan – A sound culture knows what programs they are after and what steps they are using to pursue them. Additionally, all members of the team are working to win that business.  If there is no progress, then it's time to adjust the plan.  Often though it is just a minor adjustment, like adding a visit by top management.
CASH is King– The process by which you monitor and maintain a strong cash position should be part of your daily routine. Often, a member of the staff is tasked with this, but having a system that communicates it to leadership is important.  See our previous article on this CASH.
In touch with your culture – Spend time each day / week talking to members of your team from the maintenance person to your head sales person. Ask "how are they doing?", "do they have any concerns about the business?"  The feedback you receive will give you a sense of where they are at and a look inside your culture.
As for mid-year reviews or any type of reflection on your business, that is always a good practice.  I encourage people to think about it in this way though.  Take what I call the 40,000 ft. view.  Ask questions like these:
How is the company running? (Subjectively and with hard numbers)
Are we creating memorable experiences for our customers and employees? (good ones!)
Are we keeping pace with technology and the market?
Have we considered how to manage and minimize turnover?
Are we addressing key business processes?
Do we have any regrets? If so have we addressed them? These are great learning and teachable moments.
Good leaders work "on" the business as well as "in" the business.  Working "on" is critical to a healthy and thriving business.  It requires the leader to be self-critical and unbiased.  This is a real challenge for anyone and often is where a good consultant can bring real intrinsic value.